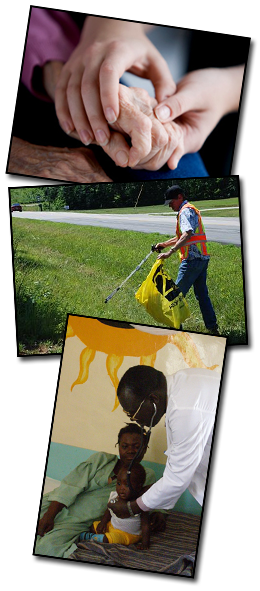 The Rotary Club of Vinings-Cumberland was chartered in November 1989 with 37 chartered members and now boasts 72 very active members. Our reach in the community and across the globe has been well documented.
Locally, our signature annual fund raising event, the successful Vinings Down Hill 5K, enables our club to grant worthwhile charities financial resources to continue and build. Additionally, we've initiated and sponsor with manpower and resources many projects including, but naming just a few:
Calvary Children's Home
Good Samaritan Health Center
Breakthrough Atlanta, scholarships for inner-city youth
Alive Ministries
Atlanta Boy Scouts
Teasley Tiger Paws
Lekotek of GA
Hero for Children
Phoenix Boys Association
Voice Today
Kates Club
Crime Victims Advocacy
Vinings Clean Ups
If you are involved with a local charity that benefits children, please go to www.viningsrotary.org and download the Grant Application.
Internationally, we've initiated or participate in meaningful projects worldwide, including:
Kilifi Kids, Kenya, de-worming over 50,000 school aged children, funding fifty high school students to attend in a cooperative environment with Campbell High School
Children's Hospital, Costa Rica, providing medical equipment and infrastructure to the hospital
Children of the Andes, providing computer equipment and school repairs in rural Ecuador
Ethiopia Water Project, funding the drilling of water wells with other clubs in our District
Wheelchair Foundation, providing over 380 wheelchairs to recipients in third world countries that otherwise have no means of mobility
Georgia Rotary Student Program, hosting college students from around the world for an academic year
Group Study Exchange, meeting with Rotary sponsored teams from around the world in a spirit of international exchange, last year from Argentina, this year, a team from Turkey
Want to know more?  Check us out on the web by clicking here.